Behind the Scenes at WISH-TV
On October 14th, 2004, the Central Indiana Section got a behind the scenes look at how a TV station works and the preparations involved for HDTV. Forty-four people met at the WISH-TV Studios, 1950 N. Meridian St., Indianapolis, IN. We were originally limited to 20 persons, but we did not want to turn anyone away. To accommodate the large turnout, they were split into three groups. Tom Weber from the WISH-TV engineering staff was the host for the tour. He led one group and his manager led the second. Gerry Inks, the Hub Operations Manager led the third.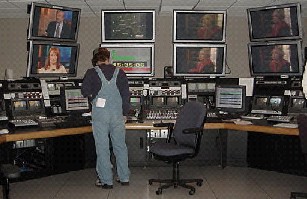 The emphasis of the tour of WISH-TV was on new high definition, digital broadcast equipment. WISH-TV has been broadcasting digitally since December of 1998. They have a broadcast radius of approximately 60 miles for channel 8, and 25 miles for the Univision station.